------------------------------------------------------------------------
Dear Users Help Us By Disabling Your Ad-Block Script or extension.

We are not displaying any ads on the site but to keep this site up and running we are using adf.ly to shorten the download links. You just have to wait for 5 seconds after clicking the download link and then click skip add and its that simple. So kindly Disable your Ad-Block Scripts. Its a humble Request. Thank You

________________________________________________________________________
Like HTC Pico/Explorer Page On Facebook
(Liking Our Page Won

'

t Cost u anything)
________________________________________________________________________
FlyROM is a customized ROM for HTC Explorer with Sense 4.0a Ice Cream Sandwich 4.0.3.
The Base Rom is provided by derefas aka savvas which is ported from HTC Desire C.
It includes lots of additional features which you will not find in stock roms.
__________________________________
Credits
___________________________________
* Your warranty is now void.
*
* I am not responsible for bricked devices, dead SD cards,
* thermonuclear war, or you getting fired because the alarm app failed. Please
* do some research if you have any concerns about features included in this ROM
* before flashing it! YOU are choosing to make these modifications, and if
* you point the finger at me for messing up your device, I will laugh at you.
*
* Submitting bug reports on nightly builds is the leading
* cause of male impotence.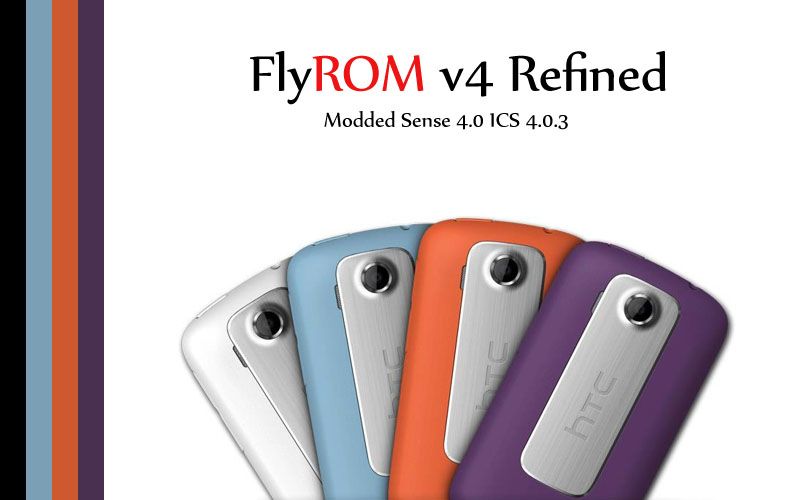 FlyROM v4 Refined Changelog:-

1. Compiled New Kernel 3.0.16
2. Overclocked CPU at 800 Mhz Support.
3. Default CPU Scaling Frequencies are set to 122-600 Mhz.
4. Default CPU Governor is ONDEMAND.
5. Ported Wi-fi Drivers From HTC One V.
6. Overclocked GPU at 220 MHz.
7. Sony Bravia Engine 2.
8. New Sony Xloud Mod.
9. Fixed Remaining Music Glitches.
10. Fully Fixed Random Reboots. Finally did it..

11. Updated Adreno 200 Libraries.
12. Removed AC!D Audio Mod.
13. Original Beats Audio.
14. Kept Noozxoide Equalizer for Bass Lovers.
15. Disabled Scrolling Cache.
16. Large Heap For Rosie. (User Interface)
17. Fixed Keyboard Lags.
18. Fixed Dialer Lags.
19. Fixed Slow Launch of Apps.
20. Fixed Bootloops.

BUGS:-
Bluetooth Media Reconnection audio routes through phone speaker
GUIDE TO MAKE SD-EXT PARTITION:-
THIS GUIDE IS ONLY FOR THEM WHO IS INSTALLING FLYROM FIRST TIME OR HAVING PROBLEMS WITH THEIR SD-EXT PARTITION.
IMPORTANT:- PLEASE BACKUP YOUR SD CARD DATA BEFORE FOLLOWING THESE STEPS. PARTITIONING WILL FORMAT YOUR SD CARD.
Just Follow these steps:-
1.Make Sure there is no sd-ext partition exist in your sd-card.
2.If You have any sd-ext partition already made, then delete partition using Minitool partition wizard software or EaseUS Partition Master. Make only one partition as fat32 of full size(If your sd card is 2gb then use full space).
3.Click on apply setting in minitool partition or EaseUS.
4.Wait for your sd-card to be formatted.
5.Make sure your sd card is showing in My Computer and working.
6.Now you can insert your card in your htc explorer.
Next Step:-
1.Download A310e Recovery zip from
HERE
2.extract the zip file anywhere in your pc.(Extract it on desktop or in any drive)
3.Reboot your phone in bootloader by pressing volume down + power key.
4.Connect USB Cable.
5.Select Fastboot in bootloader.(it will show FASTBOOT USB).
6.Run Recovery.bat in A310e recovery folder which you extracted.
7.When recovery is flashed. remove cable and switch off your phone.
8.Again start your phone by pressing volume down + power key.
9. Now select recovery
Final Step:-
1.Now in recovery select advanced option.
2.Now select partition sd card.
3.Select 1024 MB Size and 0 MB swap. Format it...
4.Wait for the formatting process to be completed.
5.Now check if everything gone right
---> Mount sd-ext in mounts and storage. if it mounts without any error. Finally You have made sd-ext partition successfully.
---> Now unmount sd-ext.
6.Now you can flash FlyROM or any other rom without any problems.(Remember to follow steps for flashing roms).

__________________________________________________________
Download
Patch:
New Patch 3 for Flyrom:-



Features:-
1. Fixed UI Lags.
2. More Smoother Scrolling.
3. Increased Apps Performance and Smoothness.
4. Increased Vibration Feedback of Touch Keys.(thanks to @derefas)
5. Improved Music Glitches.

Instruction For Flashing This Patch:-
1. Copy zip file to sd card.
2. Reboot into recovery.
3. Install zip from sd card and select the PATCH 3 FOR FLYROM.ZIP and then select YES to flash.
4. Done. Reboot Now.

ONLY FOR FLYROM V4.

Download Link:-
Download Link 1 (Gooylgle)
Download Link 2 (Dev Host)

Script to move apps and dalvik cache to sd-ext, Data on internal memory.
Download Flyscript

Instructions:-
Replace this script in the Flyrom zip (system/etc/init.d) and then flash the rom.
_____________________________________________________________
__________________________________
__________________________________
Note: As Long as you follow the Given Instruction nothing will go wrong
(Do not skip any given steps in the instruction).
But if Something goes wrong then
anyone rela
ted to the Site Is Not Responsible. But y
ou can freely ask for help and any dou
bt about anything and we will help surely.
I
f u ca
n't und
erstand how to flash
then comment below. All the Mod
,
Scripts, Custom ROM
,
etc posted here are
Tested By Me
.
__________________________________
__________________________________